MY THREAD | JOIN THE FUN
/hides
GO, EVERYONE, GOOOOOO. GO GET PRAISED. ♥
AKA GET YOUR STAN ON 2013. GO.
NOMINATE
AND STAN FOR YOUR FAVS. GO, GO, GO!
I love shiny banners tbh.

~
am_rumble~ Sign-ups!!~~
ahahahaha
animan
:
animan
" SIGN-UPS / AFFILIATES "
Sorry, not sorry.
Here's some anime/manga related comms running rounds right now. Join them pls:
Sadly the "finish this shit" folder grew since my last post.
:C I had every intention of finishing all the icons in there but I lost my motivation and quit. I'll be honest with you guys tho this icon post wasn't even going to see the light of day. D: There are a lot of reasons for that but I don't think it's appropriate to go into that right now. :O Also tutorials... they're (finally) coming up, maybe even the 2 yrs late requests, maybe I'll finish things I'm supposed to this time around... IF I DO I'LL BE SO PROUD.
+54 Animated (Various animes + cartoons)
+15 Video Games (Various)
+46 TV Shows/Films (Various including Game of Thrones, Parks & Rec, Downton Abbey, Star Wars, Doctor Who, etc.)
+15 Alts


Okay (unnecessary text and composition) post time! :D I've been really obsessed with making everything shiny and complex for some odd reason. Basically what I'm saying I'm doing is sticking text + color on everything bc I can. I'm so metal. I SHOULD JUST ADOPT THE TITLE ~*~BROKEN RECORD OF ICONMAKING~*~ AT THIS POINT. NGL I
WILL
CONTINUE TO USE COLORS AND SANS SERIF FONTS UNTIL I'M BORED OF IT OR I GIVE UP ICONNING, WHICHEVER COMES FIRST. IT'S BEEN 3 YRS THO AND I'M STILL NOT BORED, NOT SRY2SAY. ☆*・゜゚・*\(◉‿◉✿) I'm still struggling with quality btw.
I still haven't fixed my glasses so I really do apologize for the super sharp icons.
I'VE BEEN WORKING ON IT, IT'S HARD THO! I HAVE HARDCORE ASTIGMATISM SO I CAN'T TELL WHAT'S HAPPENING. :C WHERE IS THE SAVE OPTION? STILL NOT SRY FOR SPLITTING THIS BATCH.
(
Wow, it's late. I'm proud of myself. CAN'T STOP ME SON. (*・_・)ノ⌒*
Collapse
)
I'm very anxious rn, I hope you guys like these icons.
Resources
/ Credit /
Watch
/
Edit
/
Steal
/
Hotlink
/
Affiliate?
EDIT:
I FINALLY ADDED THE TAGS. I AM SO SORRY FOR TAKING FOREVER TO DO SO.
AHAHAHAHAHAHAHAHAHA? AHAHAHAHAHA? HAHAHAHAHA. AN ICON POST? FROM ME? IN JUNE? You should thank the NBA Finals for this post. Part of it was motivation and part of it inspiration tbh. About this post: I've been hoarding these icons since October...
(
LINKS UNDER HERE. lbr this is why no one likes me. I don't know the meaning of ~splitting~ posts like a normal person.
Collapse
)
Idc if you credit me or not, have fun with them. :3
lol I need to stop making things so late bc there's always something new in my "upload" folder and I have no recollection of ever making it. This is seriously not a joke. You'll see what I mean when I eventually make an icon post.
Idk if posting this is a good idea considering livejournal is banning people left and right for "spam" but I decided I'd give it a try. IF I GET SUSPENDED REMEMBER ME FOR WHAT I WAS: A PAIN IN THE ASS. Here's a set of textures I meant to post awhile (idk?) ago. I used my icons as color bases bc I can and this is what came out of it. Also ik I've been gone for some time and I'm sorry. Also icons, I owe you a post. Atm tho I'm continuing to pretend like I'm going to post them. Also tutorials, I owe you some. Textures are under the cut, there's 170. Yes, that much. Idk what happened either. Hope you enjoy~ ♥ 8I
ANYWHO IT'S TIME FOR THIS AGAIN. ASK. ME. ANYTHING. I'll try my very best to answer everything I can, all I ask is that you're patient w/ me. :O

Ask The Maker 4.0 || My Thread
lol btw I actually made an icon progression (review?) post but then I realized I made no progress and cried myself to sleep so I'm not posting it. The worst part is that I coded the whole post, it's like what a waste. It's like last year all over again.
SAID PREVIEW BTW: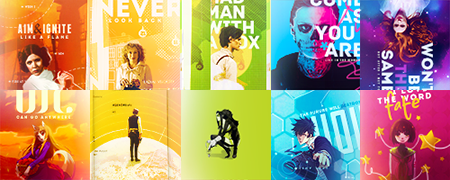 I REMEMBERED HOW TO USE TEXTURES AGAIN, LET ME REJOICE. Welp at my repetitive text. FOR SHAAAMMMMEE.
HI EVERYJUAN. IT'S MY FACE, I'M BACK. I feel bad for disappearing but I came down with a monster cold and it pretty much knocked me out for a very long time. :( (14 DAAYYYYYYYSSSSS!?) I left so many things abandoned bc of it so yeah, I'm sorry. :C Imma post some icons soon btw. I've hoarded a good amount for a mini post so look forward to that. Preview is down below.
KAWAII_CHICKEN →
PAMK
IPS
You can update your credits if you want, but you don't have to. All kawaii_chicken links will automatically redirect you to
pamkips.
C:
In b4 you don't like it (PEOPLE LIKED KAWAII_CHICKEN?) but tbh everything's an upgrade compared to kawaii_chicken. Like I could have renamed to something like crazy4munchies, catluver1997, int3rn3tn3rd or runonsentenceluvah and it would
still
be miles better than k_c. You know I'm not lying.
I'll probably rename in a couple of months again. :(
ONE DAY PAPRIKA, ONE DAY.
tl;dr: Goodbye (lj) kawaii_chicken username, you will not be missed. LET US CELEBRATE TOGETHER. :D
This should not come as a surprise to anyone that knows me (I have always been vocal over my hatred of my username) but I finally decided to rename this account. kawaii_chicken was always a very cringe worthy name to me. :/
+38 Animated (Various animes + Disney)
+07 Video Games (Devil May Cry 2 + Katamari)
+35 TV Shows (Various including Game of Thrones, Parks & Rec, Doctor Who, etc.)
+47 Films (Various including Avengers, The Fall, Amelie, etc.)
+11 Other (Actors + Crap)




lol gonna lure you all in with icons you've seen before bc it is funny.
Btw I'm sorry for not splitting this batch.
I had the intention of doing so but then I realized I'd have to pick which icons went where and it didn't work out so well. I know some of y'all hate scrolling though icon posts like this (ik I do) so I tried to split my batch into smaller sections to help you guys out.
(
The cut is here. Don't worry I've put all of my rambling under a spoiler tag.
Collapse
)
Resources
/ Credit /
Watch
/
Edit
/
Steal
/
Hotlink
/
Affiliate?
I AM SO NERVOUS RN. GUUHHHH.
lol btw anyone here watching Psycho Pass? (WHAT, I STARTED WATCHING ANIME AGAIN.) WHO ELSE IS READY FOR UROBUCHI TO KILL EVERYTHING YOU LOVE
AGAIN
? BC I SURE AS HELL AM NOT.
ik I promised you all this post ages ago and I'm sorry for taking so long. I am such a liar for it. Sucks to be me, I'm starting to hate my anal-ness over icons. I've been horading these fucking icons since February. It's ridiculous.
magicmachine
texture battle a month ago & some were made later on. (BTW YOU SHOULD CHECK SAID
POST
OUT. IT'S HEAVENLY.) Textures are under the cut, there's 100. Hope you enjoy~ ♥ I'll be back later to post icons. 8I
(
LINKS UNDER HERE. lol so these were originally split into three sets but then I felt it'd be better to post them in one set in one go.
Collapse
)
Idc if you credit me or not, have fun with them.
AND TO MAKE THIS POST WORTH IT HERE'S A PREVIEW OF WHAT'S TO COME.
I NEED A TEXT INTERVENTION.
I HAVEN'T FORGOTTEN ABOUT YOU COMM. I've just been extremely busy w/ irl, sorry (again) about that. Today I'm here w/ a texture post! :3 A lot of these textures were made for the
animan
again. Go join, plz. ♥
animan
" SIGN-UPS / AFFILIATES "
Also go join this:

The Icon Quest is a graphics-centered interactive community.
Enter challenges, make icons, earn points, become the ultimate icon maker!
tell me more! | sign-up
and this btw? It gave me feels.
Thanks you guys. Thanks to anyone who nominated, plus 1+, and/or voted for me at
magicawards
. I know this is a late thank you but I want you guys to know how grateful I am for it. Thank you for the support + love that you've given me and my icons for the past year. ♥ I am honored and flattered by this all. ♥ ♥ ♥ ♥ lol I wish I could give you guys stuff but y'know I suck w/ requests. D: Thanks guys, I appreciate and love every single one of you. ♥ (OMG THERE'S 502 OF YOU NOW? :O TY.)
Expect an icon post soon.
I have 100-ish icons + 3 texture sets I need to post. I think I might spread them out tho through the week, it's too many. D:
U guys I started